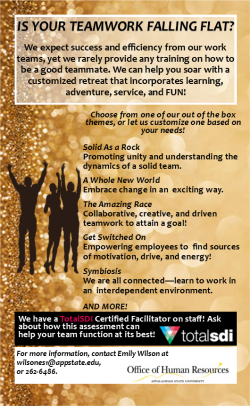 If you were training for a marathon, would you run once or twice a year?
Of course not! You would train regularly. So, why would you approach teambuilding this way? Teamwork takes work, and you must put in the effort and time necessary to ensure you are working in harmony.
Our office is available to help you plan, prepare for, and implement your next staff retreat. Whether you are looking for a few hours to a few days, on campus or off, time to do some work or just have fun, we can help plan a memorable, meaningful experience.
Choose from one of our team building workshops, or let us customize one based on your needs!
Solid as a rock: Promoting unity and understanding in the dynamic of a solid team
A Whole New World: Embrace the change in an exciting way.
The Amazing Race: Collaborative, creative and driven teamwork to attain a goal!
Get Switched On: empowering employees to find sources of motivation, drive and energy!
Symbiosis: We are all connected- learn to work in an interdependent environment.
And more!
Click here to request a customized teambuilding retreat or training session.
For more information, contact Emily Wilson at wilsones@appstate.edu, or 828-262-6486