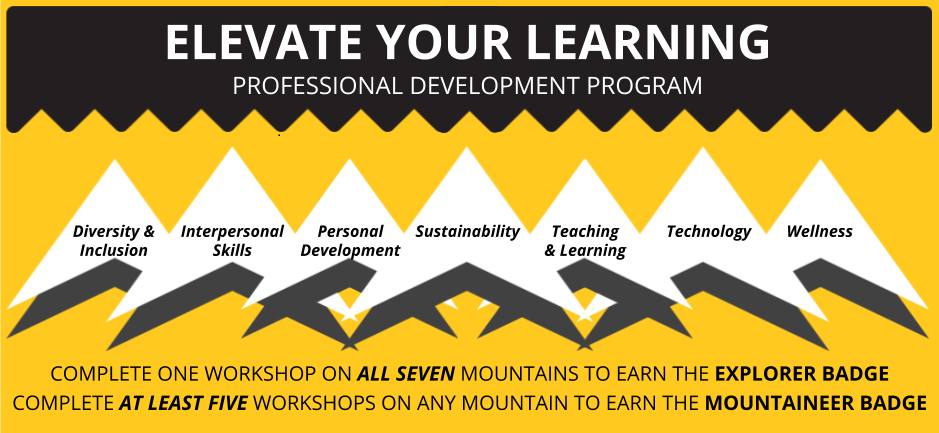 To earn badges in Elevate Your Learning, you will select a workshop or learning opportunity from each category and click on "Register now" to register through the Workshop Scheduler. Once you've completed the requirements for the chosen path, you will receive a digital badge through AsULearn (our campus's learning management system). Your two options are:
Explorer Badge = Attendance and completion of one workshop from ALL SEVEN categories. Completion includes any follow up activities and evaluations required by the facilitator.
Mountaineer Badge = Attendance and completion of at least 5 workshops from any single category to receive the badge for that category. Completion includes any follow up activities and evaluations required by the facilitator.
There are additional programs available through this catalog that do not award credits toward the Explorer or Mountaineer Badges. Check out Elevate Your Leadership and Supervisor Development Institute for more details on how to participate in these certificate programs.
What is a digital badge?
Digital badges are a portable graphic that can be uploaded to Linkedin, Facebook, or other open badging platforms. You can create collections of badges to show your commitment to professional and personal development. All of the Elevate Your Learning badges will have a consistent format and design, and a description of the criteria to earn the badge is included as part of the digital file. Below is an example of what the badge will look like.
Who can earn these badges?
All of our programs are geared toward and open to both staff (permanent, temporary, part-time and full-time) and faculty at Appalachian State University. Attendance at our professional development programs are considered paid work time and we encourage you to attend during work hours. However, if there are cases where business need prevents you from leaving your workstation, we have provided options to meet your needs as well.
Is this different from previous professional development catalogs?
This program only differs in that you get recognition for your efforts. Your previous professional development workshops are still accessible through the workshop scheduler by clicking on "My Workshops" on the upper right hand corner and logging in to see your transcript.
Who is involved in "Elevate Your Learning"?
Elevate Your Learning is a joint effort between multiple campus communities to provide the quality professional development you seek in a variety of content areas. This is truly a joint effort, but the Office of Human Resources and the Center for Academic Excellence will manage the logistics of awarding the digital badges and maintaining the calendar.
Are there things I can do if I can't come to a workshop in-person?
Yes, our goal is to make professional development accessible to everyone and reach those who are underserved. There are resources as the bottom of this page for additional opportunities to earn credit through online and after-hours programs. If you have questions about using internal or external resources for the badge, please call our office before you start.
How did you choose the "mountains"?
We chose the categories based on your feedback, previous assessments, and institutional goals. These areas are consistent with what you've asked for, as well as what we value as an organization. We encourage you to branch out, explore new areas, and earn a badge for your adventure!