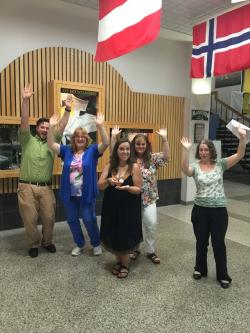 What is Learning and Organizational Development?
Learning and organizational development is an ongoing process that shapes the future of our university and provides individual employees with the knowledge, skills, and empowerment to further their career. We strive to:
Align learning opportunities and topics to support the Unversity's strategic initiatives.
Align training and development programming to organizational labor resource needs.
Align resources to employee performance plans.
Reach the underserved with professional development resources and provide opportunities for growth that are relevant to all positions and careers.
2019 Winter Break Professional Development Opportunities
Employees have access to a curated list of online professional development modules. This list will include topics such as:
Communication skills
Giving and receiving feedback
Leadership
Customer service, and others
These modules are available on-demand through the University's AsULearn system and employees can self-enroll in the courses starting on December 20th. Work time will be tracked based on completion of activities and assessments. Certificates will be provided upon successful completion of the course.
Other Programs & Resources
Leadership Development Programming
Supervisor Development Institute
Customized Teambuilding Retreats and Training Sessions
To request a specific training for your department or suggest a topic, fill out our Training Request Form.

Faculty Professional Development