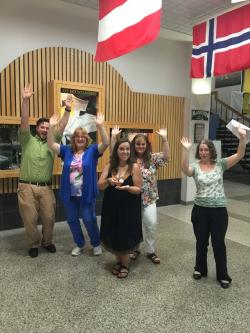 Spring 2019 Professional Development Opportunities
View the Elevate Your Learning catalog for Spring 2019.
What is Learning and Organizational Development?
Learning and organizational development is an ongoing process that shapes the future of our university and provides individual employees with the knowledge, skills, and empowerment to further their career. We strive to:
Align learning opportunities and topics to support the Unversity's strategic initiatives.
Align training and development proramming to organizational labor resource needs.
Align resources to employee performance plans.
Reach the underserved with professional development resources and provide opportunities for growth that are relevant to all positions and careers.
Ready to learn more? Programs are open to ALL employees, free of charge, and are considered paid work time! Register for our traditional classroom workshops at workshops.appstate.edu.
New Programs
Introducing ELEVATE YOUR LEARNING!
What is Elevate Your Learning?
Elevate Your Learning is the name of our annual professional development program. Each year we coordinate a variety of workshops and learning opportunities to provide our staff and faculty with opportunities for professional and personal enrichment. Starting in Fall of 2017, Elevate Your Learning workshops have provided various opportunities to earn digital badges for coordinated professional development pathways. This digital badge can be added to LinkedIn, Facebook, or other open badging platforms.
How does Elevate Your Learning work?
You will select a workshop or learning opportunity from your desired path and click on the title to register through the Workshop Scheduler. Once you've completed the requirements for the chosen path, you will receive a digital badge.
Can I earn a badge if I can't come to every workshop in-person?
Yes, our goal is to make professional development accessible to everyone and reach those who are underserved. You may use the additional resources as the bottom of this page to earn some of your credits through online and after-hours programs.
Who can earn badges?
All of our programs are geared toward and open to both staff (permanent, temporary, part-time and full-time) and faculty at Appalachian State University. Attendance at our professional development programs is considered paid work time and we encourage you to attend during work hours.
Access the workshop scheduler for our online catalog of workshop opportunities!
Other Programs & Resources
Leadership Development Programming
Supervisor Development Institute
Customized Teambuilding Retreats and Training Sessions
To request a specific training for your department or suggest a topic, fill out our Training Request Form.

Faculty Professional Development